Zoey's life has taken a dramatic turn. Only a few months ago she was a Collector working for the a secret part of the government called the Department of Molecular Genetics (DMG), tracking and collecting fae. Her life had been changing and improving with a partner she loved and a sister she adored.





Now all that is gone—Daniel murdered by a fae, and Lexi killed when the Seattle area is devastated by a powerful, magical electrical storm. Zoey herself is altered by her association with the Wanderer, Ryker, in life-changing way.





Zoey discovered she was an experiment from the very company she worked for. She could die at any moment of a threatening defect—taking Ryker's magic with her.





In a race against time, Ryker and Zoey set out to find a way to transfer his powers back before it's too late. Their journey takes them to the rainforests of South America, dealing with those who are after something Ryker possesses and who will stop at nothing to obtain it for themselves.





What Zoey and Ryker discover can destroy them or tear them a part for good.
Okay, this was one of the hottest books I've read in a long, long time. I was all hot and bothered. I had to binge read this in a day. I want my own 6 foot 2 inches tall blond long-haired muscular Viking-like Ryder with a seal clubber. Really. Gimme.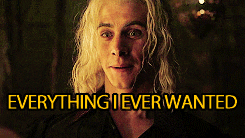 Plot-wise, not much happens in this book but the barrier between gets demolished. The barrier between Zoey and Ryker.
The tension builds up slowly and steamy scenes are well written. Action in this books is also well written. Zoey almost fell into the denial after sex road but thank gods she soon realised the error of her ways and told Ryker how she really feels and no awkward dragged misunderstanding-plotline happened. She is one hell of a crazed animal sometimes when she gets to the "fighting mode" I loved how Ryker had to lift her off her enemies whom she was pummelling to bloody pulp.
Zoey does seem to me inclined to do some stupid shit at times but I've stuck with more stupid MC:s so she didn't annoy me to much.
What did annoy me was The Bitch a.k.a Amara. I wanted Zoey to pummel her to a bloody pulp. I don't know why Ryker ever trusted her even a little bit. Self-serving double-faced snake-headed Medusa.
Sprigg was awesome. He made me laugh all the time. His honey-addiction is adoring and his commenting about Zoey and Ryker's attractions are hilarious.
I switched between listening and reading. Narrator was decent enough, although she has the same problem most female narrators do; male voices sound stupid. Oh well.
The ending though. I had to get my hand on the next one immediately. Luckily this series is out and no waiting for years to the next installment.